Facemask
Ok by no means are we suggesting that you should get a charcoal peeling mask and snatch it off your face. But face masks can soothe and rejuvenate tired skin, especially in the long and cold winter seasons. You can even do easy DIY ones with green tea leaves and honey, or other remedies with everyday ingredients!
Take a long Bubble bath
After that long week of picking up shifts and staying later to get that last email answered, you deserve a nice long relaxing bubble bath. Light a candle, grab a book, and sink right in.
Sleep in on your day off
On your days off, don't be so quick to always jump out of the bed. Be gracious to yourself and lay down for that extra hour and let yourself enjoy not having to rush to clock in at 9am.
Redecorate your space
Redecorating gives you a sense of freshness. And you might even realize that you have more space than you thought you did.
Take yourself on a date
Self appreciation is important. Why not wine and dine yourself? Get dressed nicely and take yourself to your favorite restaurant or go see that new movie you've been dying to see.
Try a new hobby
Another great thing that you can do is enrich your mind. Try a hobby out that you have always wanted to do. It gives you something different to do so that you don't fall into routines.
Try a new recipe

Okay, we aren't saying you have to be a contestant on The Great British Bake Off, but cooking can be very therapeutic. Find a recipe for something you've always wanted to learn how to cook and try it out. And hey, if it isn't the best first time, try again.
Bring a group of your friends to an escape room
Escape rooms make you think out of the box and with a group of friends it's thrilling to see yourselves solve puzzles. And it's a great time to let out a lot of yells and hysterical laughter.
Satisfy your sweet tooth
Yeah Yeah Yeah we know, you want to get that beach bod in 2019. And you still can! However, every now and then, reward yourself for sticking to that workout regime and diet.
Enjoy a sunrise or sunset
Take a trip out to the beach and just lay watching the beautiful sun set or rise. Some people even do Yoga or just dance during this time of the day. It can be so relaxing and soothing.
Make your own chocolate fondue
Who says you have to go to an overpriced restaurant to get your fondue on. You can melt your own chocolate and dip your fruit in right on the comfort of your couch.
Take a walk
We know this sounds simple. But it is amazing how just a simple walk can help clear your mind. Even if you go to a park and just begin to walk, it helps your mind to breathe.
Read that book you've let sit all 2018
Yes, that book that you bought at the beginning of last year. Try picking it up and reading it. Even if it's for five minutes. Before you know it you 'll be so into it that it's done and you'll feel good and accomplished.
Aromatherapy
It's always relaxing to light some candles or incense. They are very relaxing and leave a great smell throughout your home. And who doesn't want their house smelling fresh after a long days work.
Rewatch your favorite movie
It's called your favorite movie for a reason. Why not watch that movie that makes you feel good everytime you watch it? Even if it is Dirty Dancing and you know it word for word.
Get a massage
We as humans hold so much tension, known and unknown. One of the best ways to acknowledge and release that tension is by going to get a massage. Your muscles will definitely thank you.
Go to the museum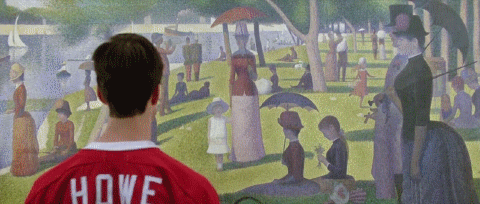 Walking through a museum can be calming because you are present and you are taking things in. It's an escape from the over-abundance of stimulus that you can encounter in your everyday life.
Host a game night
It is always a good time to get a group of friends together for a fun filled night of games. You are bound to be in for a night of laughter and memories that you will laugh about forever.
Binge a new show
Last but not least, allow yourself a true break. Have a lazy day where you find a TV show that catches your attention, and just binge it. Take the time to shut out the rest of the world. Watch that whole show, we won't tell.
All In all, be kind to yourself this year. This is the only body you have. Give it a break. You deserve it!!
​